For five years, the Deferred Action for Childhood Arrivals program (DACA) has given nearly 800,000 hopeful young strivers brought to the United States as children the legal protections they need to work and study in this country, despite the immigration status of their parents.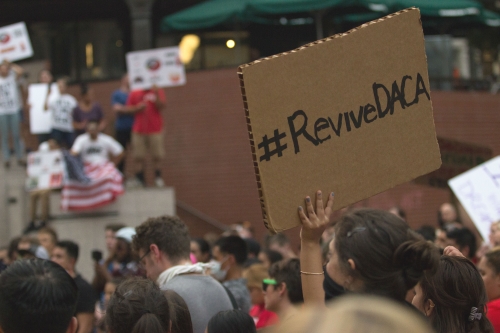 Known as "Dreamers," these young people have deep stakes in the U.S. Through DACA, they've achieved many of the milestones that frame the American dream: earning better wages to support their families, pursuing higher education, buying cars, and setting down roots in their communities through home ownership. They are students in our classrooms, teachers in our schools, soldiers in our armed forces, leaders in our cities and towns. They represent the best of us. Those who qualify for deferred action pose no threat to public safety or national security.
Nearly 8 in 10 voters support allowing DACA recipients to remain permanently in the country and just 14 percent believe they should be forced to leave.
In Oregon, the 11,300 young people registered under DACA have a powerful impact not only on immigrant communities but also on all Oregonians. According to an Oregon Center for Public Policy report, undocumented Oregonians pay roughly $81 million in taxes to help fund schools and other public services that strengthen the state's economy, through property taxes, personal income taxes, and sales and excise taxes. If every undocumented immigrant left the state, Oregon would lose up to $3.4 billion and nearly 20,000 jobs. Ending DACA would cost Oregon more than $605.6 million annually in gross domestic product losses. Without DACA protections, deportation will tear more families apart and shatter the foundation of local economies.
The Trump administration's decision to phase out DACA feels like a sucker punch. It will go down as a decision that is equal parts small, short-sighted and destructive. It threatens DACA Dreamers with expulsion from the only country most have ever known. And it reneges on the promise that registering as an undocumented immigrant would not be used against them.
They deserve better. We all do.
So here's what you should know:
Earlier this year, The Collins Foundation, MRG Foundation, Oregon Community Foundation and Meyer Memorial Trust partnered to create the Oregon Immigrant and Refugee Funders Collaborative, a collective effort to support the successful integration of immigrants and refugees into our communities. All four organizations share an unshakable belief in the value and importance refugees and immigrants bring to our state.
We remain committed to our grantee partners and to the immigrants they serve.
We are also urging grantmakers and philanthropists in our state and across the country to join us in funding essential services and supports to assist these immigrants and their families.
We urge our neighbors to educate their communities and leaders the bipartisan Dream Act of 2017. Without action, young immigrants brought to the U.S. illegally as children could face deportation as early as March 6, 2018, to countries they don't even remember.
As Darren Walker, CEO at the Ford Foundation, wrote in a forthright blog after the DACA decision: "Soon, it may be too late for courage, too late to take the necessary steps to mend our society. We risk reaching a day when whatever ability we had to influence change or protect our democratic values will have been squandered."
-- The Collins Foundation, MRG Foundation, Meyer Memorial Trust