We are pleased to announce that we have hired a new CEO, Carol Cheney.
Carol is currently the diversity, equity, and inclusion manager at Meyer Memorial Trust, where she leads the foundation's equity work and elevates DEI within Meyer's organizational strategy.
We chose Carol because of her deep roots in Oregon and her extensive equity work throughout her career. She's an inclusive collaborator who knows how to bring people together to achieve common goals.
Carol began her career in the social sector 30 years ago, leading domestic violence prevention efforts in Clackamas County and providing nonprofit organizational development support to nonprofits throughout the state while at the Nonprofit Association of Oregon.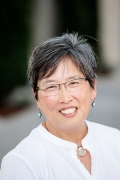 Carol was born in Seoul, South Korea and grew up in Maryland and rural Oregon, where her family owned an alfalfa and wheat ranch 17 miles outside of the town of Ione in Morrow County. She lives in northeast Portland with her partner and their two Zoom-bombing cats. She can often be found gardening, hiking or cycling, and when possible, belting out a tune at the local karaoke joint.
Over the last 14 years, Cynthia Addams has been a dedicated, thoughtful, and visionary leader of The Collins Foundation. She has led our board and staff in our equity pursuit resulting in a significant change in our leadership, staff, grantmaking and processes, centering equity at each point. We are tremendously thankful for the work she has done in her role as CEO for both our foundation and for the state as a whole. Cynthia will remain at The Collins Foundation for three months to help with the transition. 
Please join us in welcoming Carol on April 26. 
The full press release is linked here.